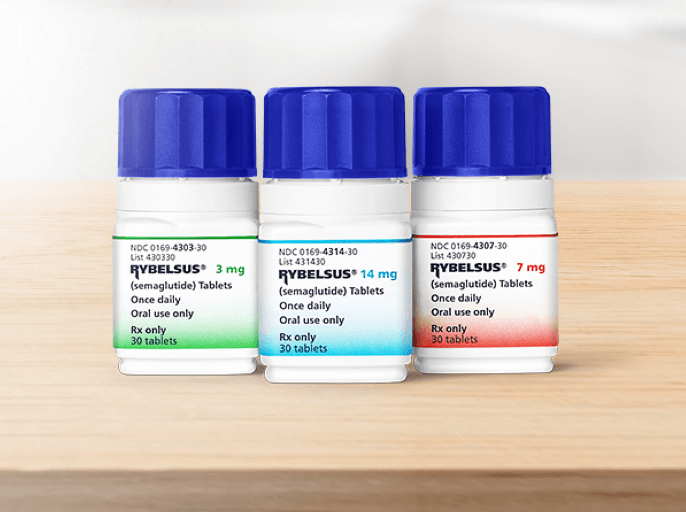 24/7 Access to high-quality Rybelsus (Semaglutide)
✓ Effective blood sugar control

✓ Convenient oral administration

✓ Weight loss.

Type 2 diabetes breakthrough! Scientists create the first once-daily tablet that not only stops the condition in its tracks but also helps patients lose weight. Rybelsus is a safe and effective option for managing type 2 diabetes in adults with the added benefit of weight loss. The active ingredient Semaglutide developed by Novo Nordisk works by acting like a hormone called glucagon-like peptide-1 (GLP-1), which promotes insulin production and also stimulates part of the brain that controls appetite.
As a tablet that is ingested orally, it offers a convenient option for patients seeking effective treatment for their condition. People typically start with a 3 mg dosage strength and then increase it to 7 mg after 30 days. You can buy Rybelsus (Semaglutide) online from Canadian Pharmacy with next day US delivery. Starting from only $530 per month supply, it also includes free consultation by our healthcare professionals.
Rybelsusfromcanada.com is your safe and secure online pharmacy choice with excellent customer service and unbeatable prices. Every time you shop at our platform, you can count on your expectations to be met and exceeded. We strive to provide top notch customer service and understand that customer satisfaction is key to continued success. Purchasing Rybelsus has never been easier!
Table of Content
What is Rybelsus?
Rybelsus is used for treatment of Type 2 diabetes and works to manage blood sugar levels. It is the first glucagon-like peptide (GLP-1) receptor protein treatment approved for use in tablet form. This drug is supplied as a white to light yellow, oval shaped tablet and is available in 3 mg, 7 mg, and 14 mg strengths.
Rybelsus has a unique 3-way approach to lowering blood sugar. The advantage of the active ingredient Semaglutide by Novo Nordisk is that it promotes increased insulin production from the pancreas, decreases sugar released from the liver, and slows the release of food from the stomach after eating. Controlling high blood sugar helps prevent kidney damage, blindness, nerve problems, loss of limbs, and sexual function problems. Proper control of diabetes may also lessen your risk of a heart attack or stroke.
Who will benefit from Rybelsus?
Type 2 diabetes patients with preference to oral agents and those with needle phobia would benefit the most from oral Semaglutide. Patients who cannot self-inject or those with poor injection technique should be offered this drug where appropriate.
Does Rybelsus help with weight loss?
The search for effective and safe weight loss treatment seems never-ending. But the newest medication, Rybelsus, is making waves. Excess weight can put you at serious long-term health risks, like heart disease, diabetes, cancer, and arthritis. Therefore if you've been considering medical weight loss treatments but don't love the idea of injecting yourself, then you may have heard about Rybelsus tablets. This drug was approved by the FDA as an adjunct to lifestyle changes for weight management in people with obesity or overweight – with a related medical complication such as high blood pressure.
---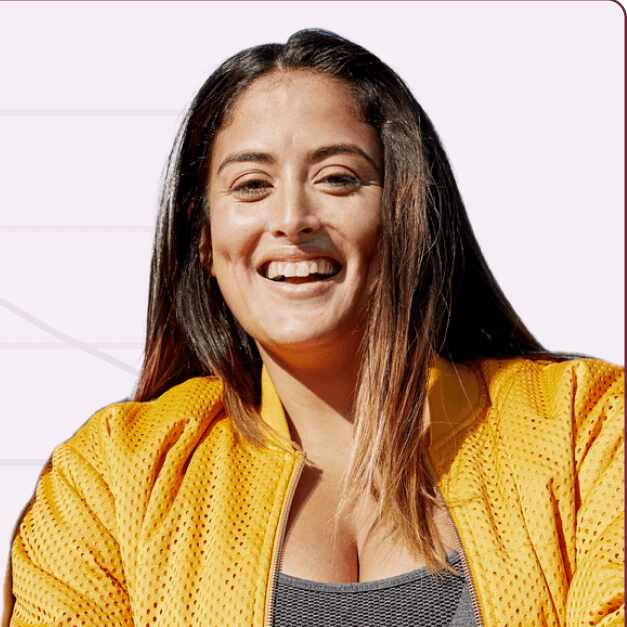 "Eight weeks after starting to take Rybelsus, I have more energy and just generally feel better."

— Jennifer Moem, customer
---
In a one-year clinical trial, those taking Rybelsus (14 mg dose, which is the higher dose) lost an average of 4.5 kilograms or about 10 pounds. However, it is important to note that when taken along with diet and exercise, patients saw even greater improvements in their overall health, including lower cholesterol and improved glucose control. Mission of our Canadian Pharmacy is to empower and support our clients every step of the way, making sustainable weight loss accessible and achievable for all.
Rybelsus weight loss transformation
Advising a patient with obesity to simply "eat less and exercise more" is like telling a patient with depression to "cheer up." It's ineffective and often hurtful, particularly with the added stress of the pandemic. GLP-1 receptor agonist medications are one of many treatment options that can help position you for success.
Rybelsus for weight loss: Before and After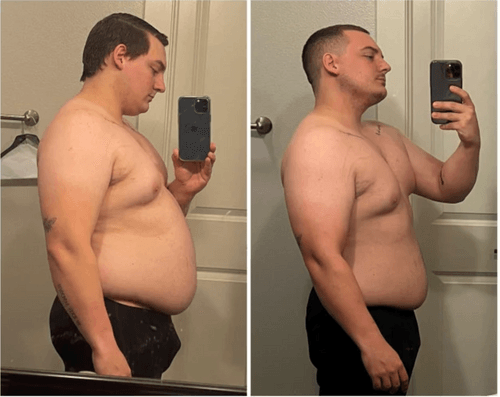 Nick – Lost 15 lbs
"Rybelsus was instrumental in helping me achieve my weight loss goals. Finally seeing some changes after 2 months!"
Elly – Lost 40 lbs
"I am grateful for Rybelsus, as tablets completely suppressed my food cravings, making weight loss achievable. Down 40 lbs!"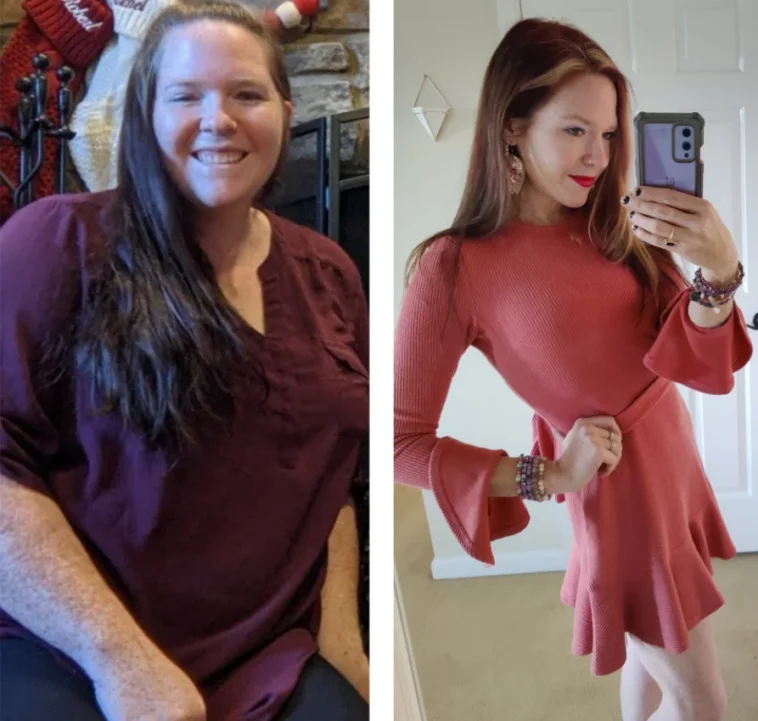 We have hundreds of happy customers all now enjoying a happier, healthier life with the body they've always wanted. We're certain you'll be thrilled with your results too!
How does oral Semaglutide work?
Rybelsus contains an active ingredient called Semaglutide that acts like glucagon-like peptide-1 (GLP-1) in the body.
Diabetes
Semaglutide is a GLP-1 receptor agonist designed to help control blood glucose levels for those with type 2 diabetes. This medicine works by signaling the liver to slow the production and release of excess sugar from stored food sources, this helps maintain normal blood glucose levels after meals.
Weight loss
Rybelsus can help with weight loss by reducing hunger and increasing feelings of fullness. It works by acting on the brain's satiety centre, which activates hormones that suppress the feeling of hunger and create a longer-lasting feeling of fullness after meals. This hormone is also responsible for increasing metabolism, which helps to burn more calories throughout the day, leading to greater weight loss.
What dosages of Rybelsus are available?
The drug is available in 3 mg, 7 mg, and 14 mg tablet formulations. Rybelsus 3 mg is considered the starting or priming dose. Following the dosage is a must to prevent the development of cardiovascular problems.
How to take Rybelsus?
The medicine should be taken on an empty stomach, at least 30 minutes before the first meal or beverage of the day. After taking Semaglutide, wait 30 minutes before taking any other medications.
Take 3 mg of Rybelsus daily. Follow this frequency for 30 full days.
Your dosage will increase to 7 to 14 mg daily if treatment maintenance is necessary.
Starting at too high of a dose or increasing the dose too quickly can lead to symptoms such as indigestion, nausea, vomiting, diarrhea, or constipation.
Swallow the tablets whole. Don't crush, chew, or split the tablets because doing so can cause you to take an inaccurate dose of the medication.
Rybelsus works best if you maintain a healthy diet and exercise regularly.
How to buy Rybelsus from Canadian Pharmacy?
As a leading digital platform, our trusted Canadian Pharmacy online aims to provide comprehensive solutions of order Rybelsus to our patients. You can buy Semaglutide just by clicking a few buttons and then your order will be handled within a couple of hours, and your package will reach you as soon as possible.
Trusted Canadian Pharmacy
Get in Touch, and let Us
Know how we can help
We are dedicated to providing our customers with the top-quality pills. Therefore, clients appreciate the individualized, compassionate service they've received from the staff at our platform. One reviewer said, «Rybelsus from Canadian Pharmacy was amazing. Kind, compassionate, and efficient. Pharmacy staff helped me during a time when I thought I had no other option. Couldn't thank them enough."
Also, please note that ordering through Canadian Pharmacy's secure site allows you to save up to 40-60% of the cost of your medications compared to American pharmacies. Remember, your health and well-being are our top priorities at our trusted Canadian Pharmacy.
What's the cost of Rybelsus?
The price for a 30-day supply of the Rybelsus 3 mg tablet can range around $530-$950 depending on the pharmacy. For something patients must take daily, that's too steep a cost to be feasible for most. Fortunately, you can save up to 40% on medicine simply by purchasing your Rybelsus through a Canadian Pharmacy online.
With our special deals and exclusive discounts, you can enjoy the benefits of premium tablets at an affordable price. For that amount of money, Semaglutide can provide real, sustained relief for people struggling with diabetes or weight loss management.
Rybelsus vs Ozempic: is the same treatment?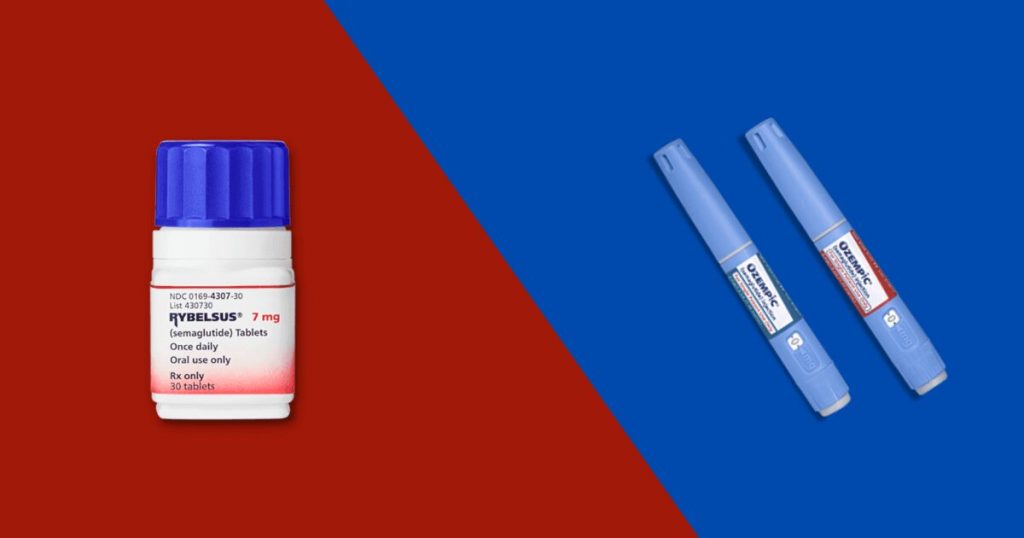 In the treatment of Type 2 diabetes, active ingredient Semaglutide is available in two forms – a weekly injection called Ozempic and a daily tablet called Rybelsus.
These drugs are both brand-name medications by Novo Nordisk. Overall, the choice of treatment depends on patients' individual needs and preferences, and a healthcare provider's recommendation.
Rybelsus vs. Metformin for Type 2 diabetes
Metformin is a first-choice medication that's been used for decades to treat Type 2 diabetes. It's available as an oral tablet, extended-release tablet, and liquid. In turn, Rybelsus (Semaglutide) is a newer oral tablet for treating Type 2 diabetes. It's sometimes added to other medications, like Metformin. Patients seeking weight loss benefits as an off-label benefit of these medications may not find what they need with Metformin.
Warning and precautions
It is important to note that Rybelsus is not recommended for certain groups of patients with:
diabetic ketoacidosis
severe renal or liver impairment
a personal or family history of medullary thyroid carcinoma
those who are allergic to any of the ingredients in the medication
a rare genetic condition called multiple endocrine neoplasia syndrome type 2.
If a person develops any symptoms or signs suggestive of allergic reactions or anaphylaxis, treatment should be immediately discontinued.
Rybelsus also has warnings about diabetic retinopathy (damage to the eye's retina), hypoglycemia (low blood sugar), acute kidney injury and hypersensitivity reactions. It is also not indicated in the treatment of diabetes mellitus type 1.
Specialists do not recommend this drug in pregnancy and in breastfeeding mothers. Stop taking the drug at least two months before the planned pregnancy. It takes about two months for the drug to clear from the human body. Rybelsus is not indicated for use in children.
Common side effects
A side effect is an unwanted response to a medication when it is taken in normal doses. The side effects listed below are not experienced by everyone who takes this medication and they can be mitigated by slowly increasing the dosage of the drug:
bloating
burping or gas
constipation
decreased appetite
diarrhea
heartburn
nausea
stomach pain
tiredness
upset stomach
vomiting.
Rybelsus may cause serious side effects, including: inflammation of your pancreas. If you are concerned about side effects, discuss the risks and benefits of this medication with your doctor.
Risks of drinking alcohol while taking Rybelsus
While taking this medication, it is generally advisable to avoid or limit alcohol consumption. Drinking alcohol while on Rybelsus can pose several risks to your health:
Increased risk of hypoglycemia, symptoms of hypoglycemia include dizziness, confusion, sweating, and shakiness.
Impaired judgment and coordination. Alcohol can impair judgment and coordination, which can be dangerous for individuals taking Rybelsus.
Liver damage. Combining the two can increase the risk of liver damage.
Interactions with other drugs
No clinically significant drug interactions exist. However, a few drugs need to be mentioned here:
Insulin: Semaglutide use is not associated with significant hypoglycemia. However, when it is administered in combination with insulin or drugs that increase insulin secretion, the risk of hypoglycemia may double.
Rybelsus and Levothyroxine: because this drug slows down the motility of the stomach, it increases the absorption of Levothyroxine.
Semaglutide and Warfarin: the medicine may increase systemic exposure to warfarin. INR monitoring is recommended frequently when Rybelsus is given in combination with Warfarin.
Other drugs: This medicine did not affect the systemic exposure of most other drugs including metformin, omeprazole, furosemide, lisinopril, ethinylestradiol, levonorgestrel, and digoxin.
Clinical trials of Rybelsus for weight loss
The effectiveness of oral Semaglutide in promoting weight loss was initially observed as a secondary outcome in clinical trials focusing on its use for type 2 diabetes treatment. In adults with overweight or obesity without type 2 diabetes, Rybelsus once per day led to a superior and clinically meaningful decrease in body weight compared with placebo.
Following promising weight loss results, specific trials were conducted to evaluate Rybelsus's potential as a stand-alone weight management therapy. One of the pivotal trials was the STEP (Semaglutide Treatment Effect in People with Obesity) trial. It included nearly 2,000 participants with obesity or overweight, without type 2 diabetes.
The trial spanned 68 weeks and evaluated weight loss, changes in body composition, and upgrading in cardiometabolic risk factors. This trial and subsequent studies revealed compelling results regarding Rybelsus's weight loss efficacy.
Participants treated with Semaglutide achieved significant weight loss compared to those on the placebo. On average, participants lost around 15-20% of their initial body weight, making it a remarkable achievement in the field of obesity management. Participants reported reduced hunger and improved satiety, leading to better adherence to reduced-calorie diets and healthier eating habits.